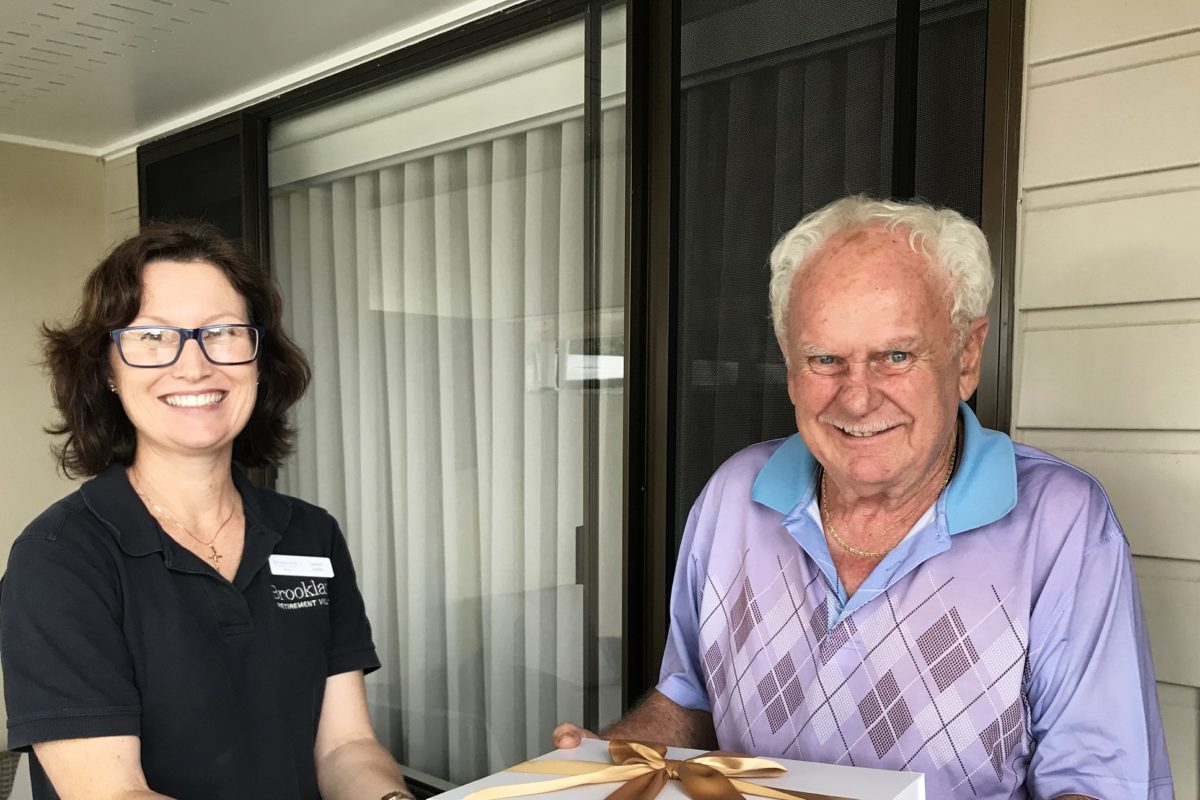 News
Welcoming our newest residents
In the midst of the coronavirus pandemic, there is still cause for celebration at Brookland Retirement Village as we look forward to welcoming several new faces over the coming weeks.
Ted Wright, our newest resident, moved into the village from his family home in Runcorn in late March and couldn't be happier with his decision.
"I've settled in nicely – I'm glad that I came in when I did," Ted said.
"My daughters are very happy that I'm living the life I am at the moment.
"I can isolate, but I've still got people around and help if I need it.
"Everyone has been very welcoming."
For new residents like Ted, village life at the moment might not be exactly what they had expected.
Retirement village community centres and facilities like swimming pools, gyms and libraries are subject to the same restrictions as businesses in the broader community, and social activities and events have been suspended in line with public gathering limits.
Those aged over 70, or over 60 with a pre-existing condition, have also now been directed by the government to stay in their homes where possible in a measure to limit exposure to the virus.
However, even with the broader lifestyle and social benefits of village living currently unavailable, the prospect of joining a secure community with an established support network remains a strong drawcard for prospective residents – now more than ever.
Retirement villages across Australia are also rolling out new services and initiatives to help residents feel supported and connected to the broader village community while the coronavirus situation continues.
At Brookland, this includes twice-weekly wellness calls, meal delivery, in-home trivia and activities, and even a community pantry to ensure residents have access to essential supplies.
According to Reside Communities CEO Glen Brown, village staff have seen an incredible response to these new initiatives.
"It's been wonderful to see how residents have embraced the new initiatives we're putting in place across our villages, and we've received very positive feedback," Mr Brown said.
"Our villages offer independent living, so our residents are generally very self-sufficient, but for both the residents themselves and their family members, knowing there's that extra support available really helps in a time like this.
"This is a challenging situation for all of us, but especially for the older people in our community who are at greater risk from this illness.
"We're doing everything in our power to keep our residents safe and well, as well as continuing to provide the level of service and support they receive year-round."
The Brookland team will also be working with clients to help them continue their research from their homes, and is offering extended timeframes from deposit to settlement so they can secure their preferred home and progress to settlement at their own pace.
For Ted, the process went smoothly and evidently the timing couldn't have been better.
"I didn't rush into it, but I came and had a look around the village, and then I sat down with Christa and Tammie, who said that I could put down a deposit to secure the villa and then take my time.
"I've got four daughters and they came and had a look at a few different homes I had been looking at. When we walked into this one, they just said, 'This is the one for you Dad'.
"I put my house on the market and I had a contract within 10 days, which was just phenomenal."
The village's location was a key factor for Ted in choosing Brookland as his future home.
"I had known about Brookland for many years. I was in the taxi industry back when I was living in Coopers Plains, so I used to call in here and pick people up," he said.
"It's a top spot I think, location wise. We're handy to the airport, the trains, the city – all of it.
"I belong to a bowls club at Mt Gravatt – I have actually got one friend from the bowls club who lives here in the village."
Now, happily settled, Ted is looking forward to getting the full experience of life at Brookland when things go back to normal.
"I'm looking forward to the lifestyle, getting to chat to people – village life, really."
On behalf of the Brookland community, a very warm welcome to Ted and to the other new residents who will be joining us in the coming weeks.