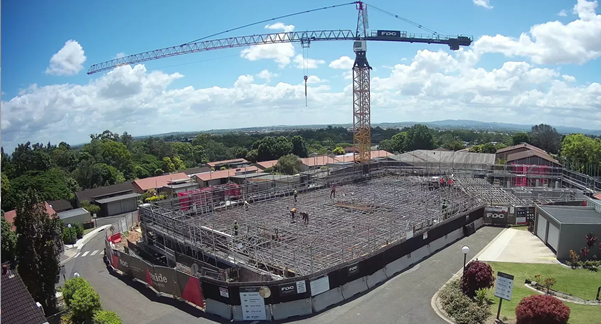 Community Information
Starting the new year off strong at the site of Brookland's Clubhouse and apartments
A rainy end to the year didn't dampen the spirits of our construction team who are back on site at Brookland Robertson.
Whether you are already a resident or are considering joining this welcoming community in the future, seeing our new resort-style community centre and apartments take shape was a highlight of 2021.
We are very proud of the progress that has already been made across Brookland's Clubhouse site and look forward to seeing the project through to completion this year!
Despite the challenges posed by wet weather that we all experienced in December, our team successfully installed the final ground slab by taking advantage of breaks in the rain.
Completing this process was a significant achievement given the conditions, as it has greatly reduced our site's exposure to problems caused by wet weather
The Level 1 formwork deck was also installed before Christmas along with reinforcement, post tensioning and the associated services.
This will allow the next pour to begin shortly, continuing the building's steady rise as its shape and scale become ever more apparent.
Meanwhile below ground, all formwork has been removed from the basement levels to allow the permanent services to be installed and fitted off.
Modern retirees who love the idea of downsizing into low-maintenance retirement will appreciate the selection of one, two and three-bedroom apartments which are being created at Brookland.
The Clubhouse's cinema, pool, gym, lounge, café and bar are designed with luxury and convenience in mind, creating an enticing lifestyle for residents to enjoy within this established community.
Stay tuned as we share more photos and provide the latest updates next month!
To find out more about our five-star facilities and apartments, or to book an appointment, call the team at Brookland on 07 3345 9143 or fill in this contact form.