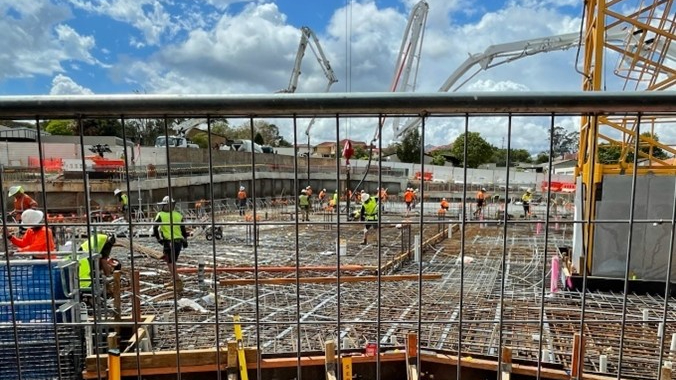 Community Information
New apartments and amenities growing at Brookland
The site of Brookland's new Clubhouse and apartments is a hive of high-vis activity as our teams maintain the impressive pace of construction.
Completing the pour of the upper ground floor slab was a major step forward this month, allowing work to begin on the building's facilities and shared spaces.
It is now possible to see where the future reception area and management offices will be, along with the café, bar, gym, dining rooms, hair salon and other luxurious amenities that will be exclusively enjoyed by our residents and their invited guests.
The heated indoor pool where residents can savour a relaxing swim or participate in a water-based fitness class will be one of The Clubhouse's most popular features.
We are delighted to confirm that the pool shell is poured and ready for the finishing touches which will be added just prior to the building's completion next year.
The focus of activity on site will now move upwards, with columns and walls being constructed in preparation for the first of three levels of luxury apartments.
As scaffolding rises around these new levels our current residents and visitors to Brookland will be able to appreciate the building's scale and silhouette in greater detail.
The selection of one, two and three-bedroom apartments currently under construction at Brookland are ideal for retirees who want to downsize into a modern, low-maintenance retirement.
Residents of these new apartments can look forward to all the benefits of living within an established community and enjoy The Clubhouse's cinema, pool, gym, lounge, café, bar and more.
Stay tuned as we share more photos and provide the latest updates next month!
To find out more about our five-star facilities and apartments, or to book an appointment, call the team at Brookland on 07 3345 9143 or fill in this contact form.