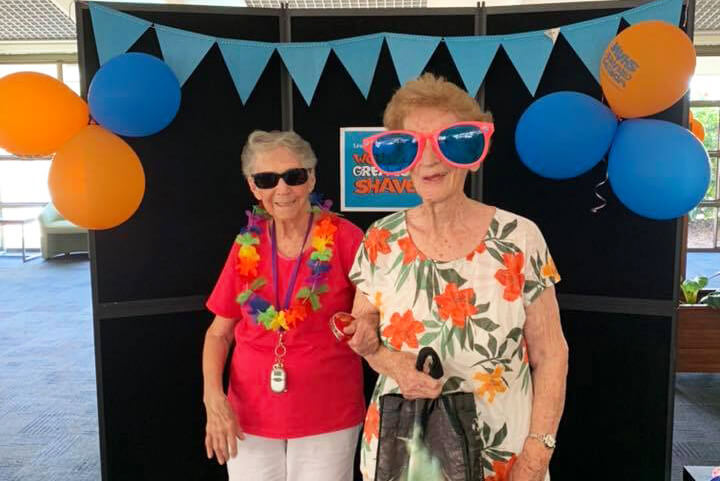 News
Brookland supports World's Greatest Shave
On 13 March, residents and staff at Brookland Retirement Village came together to support resident Tony Townrow as he shaved his head for the World's Greatest Shave.
The community gathered in the community centre to enjoy a sausage sizzle and support Tony's big shave.
There was also a photobooth and a crazy hair competition.
Tony managed to double his fundraising goal of $350, raising a total of $708.15 for the Leukaemia Foundation.
"It's a very worthwhile cause," he said of his decision to take part in the World's Greatest Shave.
"Blood cancers like leukaemia cause massive destruction, especially to children, and there is currently no cure.
"I knew I could donate money, but I also wanted to do something more to help raise money and awareness."
Leukaemia Foundation CEO Bill Petch said every single person who signs up to the World's Greatest Shave is making a difference.
Each one is integral to helping fund a future where blood cancer is no longer a death sentence.
"These people are extraordinary Australians who are helping others less fortunate than themselves.
"It shows enormous bravery, resilience and empathy to shave their heads in support of someone living with a blood cancer," Mr Petch said.
More than 40 Brookland Retirement Village residents showed their support and had a wonderful time in the process.
Village Manager Christa McCraw said: "It was a fantastic day.
"We were all very proud to support Tony's efforts to raise money and awareness.
"The community at Brookland is very supportive and always willing to turn out for a good cause.
It was wonderful to see the generosity and enthusiasm on display on the day – both from Tony and from his friends and neighbours at Brookland Retirement Village."
View more photos on Brookland's Facebook page.